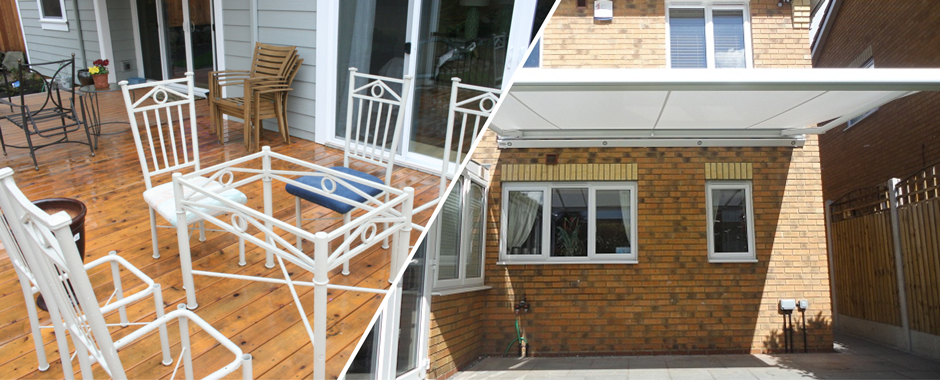 Calabash offer awning cleaning and jet-washing services for residential homes in London and the South East at competitive prices. If you want the smartest patios, garden furniture or residential blinds, call Calabash.
AREAS WE COVER
---
London
Berkshire
Kent
Sussex
Hampshire
CLEANING SERVICES INCLUDE
---
awnings & blinds
patios & decking
umbrellas
garden furniture
driveways
WHY CHOOSE CALABASH
---
16 years experience
Fully insured
Reasonable prices
Out of hours operations
24/7 office support
View Calabash news
Latest news
Kind words from Twist London

"I wanted to send my thanks to Sandra and Jack for getting the awning and windows cleaned today. I know that it was difficult for you and the team but it has made a world of difference for me and has been great to work with such reliable contractors...

Awning cleaning & jet-washing – our approach

We provide a range of cleaning and jet-washing services for awnings, facades, windows, pavements, patios, umbrellas, decking, walls, garden furniture and stairs, ensuring they look their best.
View all client sectors
Client sectors
Find out who we work for
Our clients
Read what our clients say
Client feedback
"Thank you for all of your help with the awning for our gallery. It is so nice to work with a company with great customer service such as yourselves!"

Robin Pickerell, Classic Image Cafe Gallery, 15 Devonshire Road, Chiswick, London W4 2EU

"Your operative was very prompt and did an excellent job cleaning our garden furniture on Saturday! Thanks very much for organising it so quickly."

Alistair Alton, London Kitchen Shop, 402 Hook Rise North, Surbiton, Surrey

"We have had Calabash cleaning and jet washing our delicatessen and coffee shop this morning. The awning and the shopfront are immaculate - thanks!"

Huey, Bambuni, Delicatessen and Coffee Shop, Nunhead, SE15, London

"We are very pleased with Calabash's power washing service for our gallery. The awning looks very smart this morning. Thank you!"

Emma Calvert, Philip Mould & Company, Art Gallery, Mayfair, London

"I have just had a look at the awnings. All the marks have gone and they look like new. Excellent job!"

James Baring, Henry & James, Estate Agents - Belgravia, Knightsbridge & Chelsea

"I am very pleased with the result of having the awning  cleaned. The finish is amazing; it looks almost like it did when it was put up. I thought we might have to replace it as it was so stained. Many thanks for a great job."

Erlend Norby, Stephan Haroutunian Shirts

"I just want to let you know that we have been extremely pleased with the service and the professionalism of your staff when they have come to clean our awning."

Andrew Hastie, Katharine Pooley Boutique - 160 Walton Street, London

"Our regulars notice very quickly when things are not as clean as they're supposed to be. I would say Calabash are extremely good at cleaning electric awnings. We looked around for some time before we lit upon Calabash and we've been happy with them ever since."

Gavin Rankin, Bellamy's Restaurant, Shop & Oyster Bar

"Calabash did a fantastic job, we were going to buy a new awning, but we didn't need to, as it looks as good as new, now that it has been cleaned by Calabash."

George Cselko, Guy Clapham & Co Solicitors

"Your awning cleaning operative did a great job! The work was done outside of the gallery's opening hours and we had the minimum of fuss. Thank you!"

Philip Short, The Colomb Art Gallery, London, Marylebone